Your day, which could also be your night, as a parking attendant with Q-Park starts when you clock in at the office in your district. You log on to the roster, get the car keys and your list of the supervised open-air car parks in your district.
Your job is to prevent misuse of parking spaces on behalf of the open-air car park owners who have asked Q-Park to supervise their property. You have to make sure that drivers do not park against the owner's rules and regulations and occupy a parking space belonging to someone else. It could be the parking spaces of apartment building residents or company employees. Their parking spaces must be available when they need them.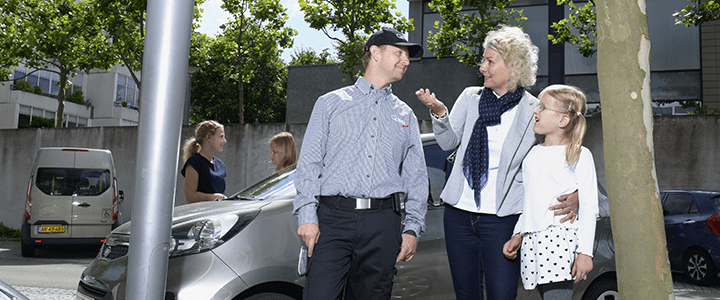 You work independently and have a lot of freedom with responsibility. At the same time, your colleagues are close by if you need them. You can reach each other by phone throughout the shift.
You are ready to respond if you are needed at a specific car park. The car park owners can call us 24 hours a day every day to report misuse of their parking spaces. If this happens on your shift, you will respond immediately.
When your shift is over, you refuel the car and return it to the office ready for your colleague to take over.