Your day, or night, begins when you start your shift in one of Q-Park's multi-storey car parks in one of Denmark's larger cities. Here, you start by checking that everything is in order.
A large part of your job is to make sure that the car park is clean and tidy and that everything in is working order. Your car park must be welcoming and parking here should be a positive experience. Therefore, you care about every little detail.
You have responsibility and freedom in equal measure, and you plan your own work. You know when a staircase need cleaning or a pay station need a refill of receipt paper. You need to be able to think fast and creatively. If a problem arises, you're the one to find the solution.
If a lift is out of order, you make sure to fix it as soon as possible. If a pay station causes problems, you manage that as well.
You call a workman or technician whenever needed, but you fix most things yourself. Luckily, you are very handy and quite technically minded. If something needs painting, you paint it. If something needs repairing, you repair it. Alternatively, you find someone to do it.
It is important to you that everything about your car park is in place. You are the host. Therefore, you also make time to talk with many of your customers during your shift. You greet the customers and you might get a chance to say goodbye to some of them as they leave the car park. You help your customers if they have problems or need help for instance with the pay stations or entry or exit barriers.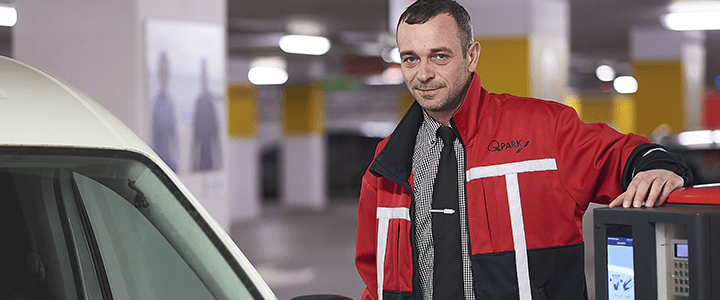 If you work in Copenhagen, you will most likely stay in the same parking facility throughout the shift. If you work in Jylland or Fyn, you will probably be in charge of all Q-Park's multi-storey car parks in your city. Regardless of where you work, you will have plenty to do. Before the end of your shift, you will have been through the entire car park many times. If your shift covers the entire city, you will have covered through each car park 2-3 times during your shift.