Tell us about your day?
I drive around patrolling the car parks that we supervise. When I arrive at a car park, I always start by checking if all the drivers have parked according to the rules and regulations. I am here to provide a service to the owner of the car park and make sure that people follow the rules and regulations, so that the parking spaces are available to those entitled to use them. I do that in good spirit and a decent manner. I only ever issue fines for drivers who have parked against the rules and regulations imposed by the owner of the car park. It's all about reducing the misuse of the parking spaces.
I also spend a lot of time on talking with people. I make a point of always being cheerful and smiling. Even when I encounter people who feel I should probably get myself different job. I don't want a different job! When I talk with people, they usually understand the importance of complying with the parking rules and regulations. For instance, during cultural or sporting events, I try to explain that parking on a fire and rescue access road may result in lives lost. People don't think about it when they park their car, but they can easily understand the problem when I explain it to them.
What is working for Q-Park like?
It's great. As a parking attendant, I drive around on my own most of the time, and during the week, I don't have many dealings with the rest of the company. I get to keep to myself, which is what I prefer. But at the same time I have colleagues and a network, and that's a good thing, too. It's a great combination.
I have a very high degree of freedom with responsibility. That suits me very well.
Which part of your job do you most enjoy?
The freedom! At the same time, I'm part of a network, and so I can contact my colleagues if I need to talk with them. I like to get out and talk with people, and I love providing a good service to those who need help. I like helping, and I want people to see parking attendants as more than a nuisance. Yes, we issue fines but we can also help. Meeting a parking attendant doesn't necessarily have to be a bad experience.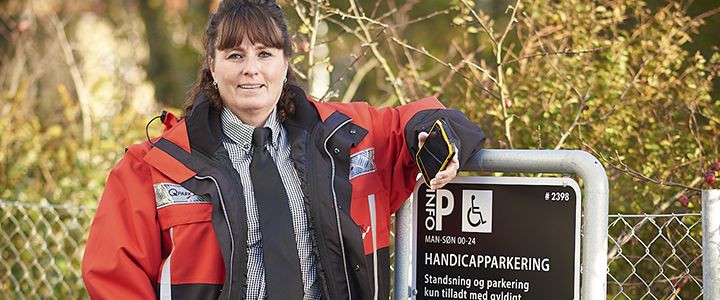 Have you been with Q-Park long?
I started at the end of 2016.
How do you live up to our motto 'Quality in parking'?
First, I must provide a good service to the owner of the car park and to those how have rented a parking space. When someone has rented a parking space, I take great pride in ensuring that one is available. I also care a lot about providing a good service if somebody is experiencing a problem e.g. with the pay stations. Or explaining to people why they have received a control fee. To me, it's good service to explain the rules and regulations to people and to let them know how to avoid future control fees. Instead of just placing the control fee notice on the windshield and moving on.