Tell us about your day?
I always work evenings, so I clock in at 4.00 pm in one of our car parks where we always start our shifts. Usually, I am the only one on duty in the evening, so in principle I cover all of our multi-storey car parks in our city. When I have checked that everything is under control in the first car park, I move on to the next. I visit a few of the car parks twice during my shift, while other car parks are OK with just one visit.
A major part of my work is ordinary maintenance tasks. I make sure the car parks are clean and tidy. I then move on to counting cars and releasing parking spaces. Some of our car parks are very busy and the parking spaces are in great demand. So when I see that some of our season ticket customers have left their parking spaces for the day, I release them so others can make use of them.
I spend about half of the time talking with customers. The busy garages have a huge flow of customers all the time and so there are many questions to answer.
The customers may have questions about how to pay, especially if they have entered using their credit card. I explain to them how simple it to pay as they exit the car park. I also help them if they have lost their ticket or if they cannot get their credit card to work.
I make sure I'm visible and available when the customers need me.
What is working for Q-Park like?
I really like working for Q-Park. I enjoy being part of a community with fantastic colleagues. It makes every workday a good day. We supplement each other very well in our team here in my district. For instance, I am good at remembering to release parking spaces while you could probably find colleagues who are a lot better at remembering to do the cleaning than I am.
Which part of your job do you most enjoy?
The daily contact with our customers. I like helping the customers when they are in doubt about something or have questions for me. I like chatting with our customers and give them a positive experience. I don't think you would find many car parks other than Q-Park's with full-time employees to attend to the customers.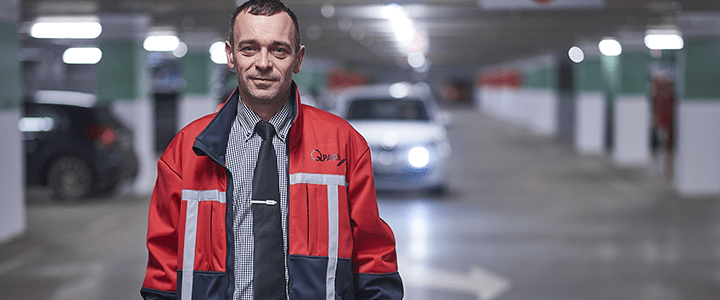 Have you been with Q-Park long?
I have been with Q-Park since August 2016.
How do you live up to our motto 'Quality in parking'?
I am extremely solution-oriented, and you could say that challenges and pressure are pure endorphins to me. I love to put on my uniform. I always do that with a smile. I hope it is contagious when I meet our customers in the garages with a smile on my face and an accommodating attitude.
I also make a virtue of explaining to people that the myth of commission pay for parking company employees has no basis in reality. At least not with Q-Park. You will actually find decent and ethically correct companies such as Q-Park that take pride in delivering a high degree of service to its customers while ensuring proper conditions for its employees.