Tell us about your day?
I come into work early in the morning. Some might say late at night. I'm usually on duty from 3.00 am to 10.30 am. My job as a parking attendant is to make sure that the parking spaces are available to those who have the right to use them. I ensure that by detecting misuse, i.e. when somebody is parked in a parking space reserved for someone else. During the night, I detect a lot of instances of people who have 'borrowed' other people's parking space overnight. Obviously, we do not allow this as it leaves someone else without a parking space.
What is working for Q-Park like?
I enjoy it very much! Q-Park is a very good place to work. In my district, we are sort of 'left to our own devices' because of the long distances between the cities that we cover. Our manager is 70 km away, so we have a very high degree of freedom with responsibility. I really like that freedom and the level of confidence in us.
Which part of your job do you most enjoy?
That every day is different. Each day brings new challenges, and I solve the problems myself as they arise. That way I get to use my head and be creative and solution-oriented.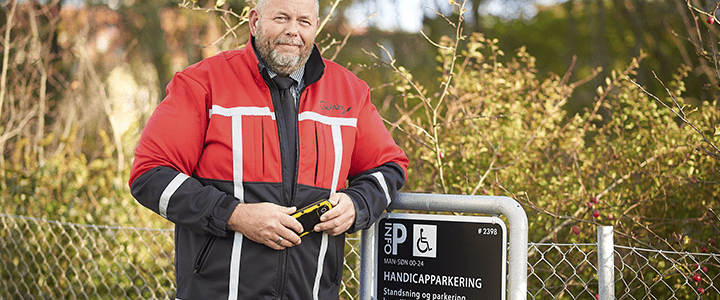 Have you been with Q-Park long?
I have been a parking attendant with Q-Park since the beginning of 2013.
How do you live up to our motto 'Quality in parking'?
I do that every day. I check if everything is in order in the car parks. I don't limit my work to just checking if any cars are parked against the rules and regulations, I also check if everything is in working order with the signboards and things like that. I make sure to talk with the owners of the area and let them know that we're here. And I make a point of always being presentable and keeping a civil tone.