Tell us about your day?
'I usually say that I have the primary, but very brief, customer contact. Emergency customer service you might call it. When people contact us, they typically have a problem, which needs solving immediately. They might need advice on how to pay for their parking or they might have forgotten their ticket and cannot enter the multi-storey car park.
Our customers also contact us by email, and I reply to those as well. Emails typically concern problems obtaining a discount or finding out where to park when visiting a city where Q-Park has a parking facility.
I also handle administrative tasks such as insurance cases, when somebody accidentally damages one of our parking facilities, e.g. by crashing into a barrier. Now and again I am in contact with people who want to film in our parking facilities, e.g. if they are shooting a commercial or scenes for a TV series. It actually happens quite often.
As an assistant team leader, I also approve working hours, adjust rosters whenever necessary and solve other urgent matters.
What is working for Q-Park like?
Some people are prejudiced against private parking companies, and I also had a few reservations about the private sector. But I was in for a positive surprise. We have a fantastic working environment in Q-Park!
It is not at all hierarchic here. Of course, we know who the boss is, but it's really no big deal to go and see him, regardless of where in the organisation you work. Q-Park clearly really values its employees. We are well taken care of, and when you put in that little extra effort, you get something extra in return.
My potential is noticed and developed with Q-Park. I am given responsibility and my managers are confident that I can handle that responsibility.
Which part of your job do you most enjoy?
It's a difficult question since I am generally happy with my job. But I really enjoy the customer contact. When I have been training new colleagues, I always look forward to getting back on the phone.
I appreciate that I have such good opportunities to develop in my job. I get to take on new assignments, learn new things, develop, and educate myself within my field if I wish to do so.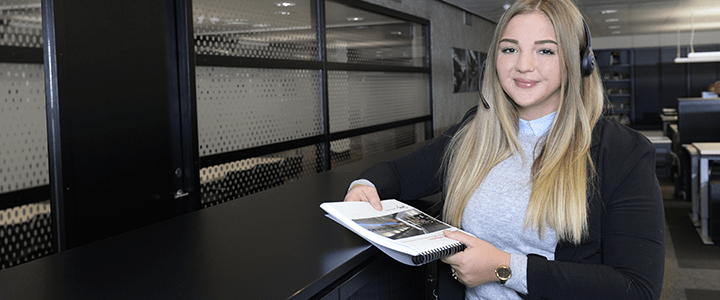 Have you been with Q-Park long?
I have been here since October 2015.
How do you live up to our motto 'Quality in parking'?
I put thought into everything I do. Including the tasks that are complete routine for me. For instance, I never use standard emails. I write all emails specifically to the customer I am helping. I'm writing to an individual. Even if I have answered the exact same question four times that day, I will still write the fifth email to match that specific customer exactly.