Tell us about your day?
My day starts with a visit to all our multi-storey car parks in the city to see if everything is in order. I check that there is no litter, that all the pay stations work and have enough paper for printing receipts, that there are no bended signs and that everything else is OK. I usually manage to visit all our car parks 2-3 times before my shift ends.
I help the customers in the car parks, greet them when they arrive and say goodbye and thank you as they leave. It is all about customer service.
My job comes with a high level of freedom with responsibility, and I need to take initiative and decide that now is a good time to sweep or wash the floor or fix something that needs fixing.
There is a lot of cleaning involved in keeping the car parks tidy and welcoming. Luckily, I have my good colleague Hanne, and we help each other. Sometimes we do the rounds together working as a team, and sometimes we divide the tasks between us. For instance, I usually manage the workers that need to be put to work with various tasks in the car parks.
What is working for Q-Park like?
I am proud to work for a company with such orderly conditions and a good, collective agreement. Life as a Q-Park employee is good. We have great conditions and our equipment and work clothes are in order. I like that we have a uniform and look presentable and that it is the same for all of us.
Also, we have a short line of authority from the management to those of us 'on the floor'. Communication works well within Q-Park, and I like that kind of management.
Which part of your job do you most enjoy?
I enjoy meeting all the nice customers and I enjoy both the freedom and the responsibility. You could say that I am sort of left to myself. I like to be able to structure my own day.
The best tasks are the ones that allows me to use my head. Like when I have to identify a problem and find a solution. For instance, if a lift is out of order or there are problems with a pay station. I take pride in solving things on my own. I always try to fix things by myself before I use money and call for a technician or craftsman.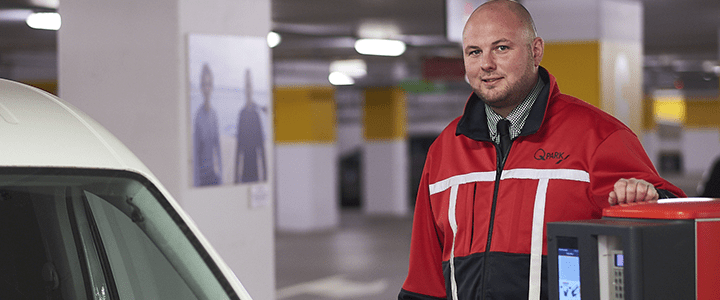 Have you been with Q-Park long?
I have worked here since October 2014.
How do you live up to our motto 'Quality in parking'?
I treat every single customer the way I would like to be treated. You might as well bring you Sunday school teachings to work with you and do unto others, as you would have them do unto you. I do my utmost for all customers and always keep in mind how I would want things handled in their situation. What would it take to feel that I experienced a great level of customer service?